January 2018 – Visiting English guitarist/composer Vincent Lindsey-Clark, who gave master classes and performed at the Sydney Guitar Society Tutors Concert, chose one of my guitars to play during his time in Australia.
December 2017 – Just received a lovely testimonial from Manuel Diewald who chose one of my guitars earlier this year, you can read it on my Testimonials page.
December 2017 – I'm playing in Dunedin with three other guitarists at the Robert Piggott Art Gallery on the 13th of this month.
May 2017 – After a move to New Zealand in January I have my new workshop up and running in the beautiful and creative town of Port Chalmers, close to Dunedin in the South Island of NZ – back to work!
August 2016 – Had a wonderful time at the Adelaide International Guitar Festival here is a photo of my Guitar Expo stall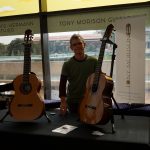 May 2016 – I now have another outlet  for my guitars through Giuseppe Zangari at Sydney Guitar School
May 2016 – One of my guitars has been featured in the latest edition of the French magazine Guitare Classique # 73. Read it here
March 2016 – I've been invited to present at the Meet the Maker session during this years Adelaide International Guitar Festival
February 2016 – I am developing a new laminated arch-back guitar.
August 2015 – Ingrid Riollot (France) played a recital on one of my guitars during her Australian tour.
July 2015 – Another guitar on its way to Concert Classical Guitars in Paris.
November 2014 – Thank you to John and Kelvin at Trilogy Guitars for the sale of another guitar in LA.
October 2014 – I now have a partnership with Concert Classical Guitars in Paris to sell and distribute my guitars in Europe and Asia
June 2014 – Working on my first commission for a left-handed guitarist. European Spruce soundboard braced with my unique hybrid bracing, incorporating both traditional and contemporary elements.
May 2014 – Another wonderful trip to LA. Great to catch-up with John and Kelvin at Trilogy Guitars. Left another guitar with them see it here: http://www.trilogyguitars.com/www2/shop/guitar/2013-tony-morison-lattice-13morxxxccic
December 2013 – I've been invited to have my guitars on display at the Sydney Classical Guitar Society's Summer School in early January 2014.
August 2013 – a record for me, my latest guitar of European Spruce and Honduran Rosewood sold at Sydney Classical Guitars in 3 days.
March 2013 – my latest guitar is now at Sydney Classical Guitars. "Tony's latest lattice model is a killer! For those that like some aspects of lattice instruments, string separation, clarity, balance, etc, but desire more traditional tone colour, this guitar has all of the above in spades! Five stars." – Rob McMullan
October 2012 – the new workshop extension is finished and is now fully fitted-out.
June 2012 – I'm pleased to be now represented in Los Angeles by Trilogy Guitars.  While at the shop I was priviledged to study inside a 1937  Hauser, then, freshly strung, play it for an hour, a beautiful guitar – words fail me.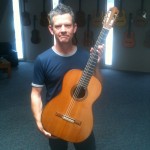 Me with the 1937 Hauser
May 2012 – I have just finished two new guitars that I'm well pleased with. One is a carbon-fibre/lattice brace. The other is a blend of traditional fan bracing and incorporating carbon fibre.
March 2012 – I will be using my new label/branding on all guitars from now on…the label will be consistent with my new logo that is featured on my website.
February 2012 – thanks to Michael whose been professionally finishing guitars for donkey's years, I'm now able to offer both high gloss and semi-sheen finish on my guitars.
January 2012 – my new workshop extension is well underway….really looking forward to the additional space….it'll improve the work flow and increase the number of guitars I can produce.