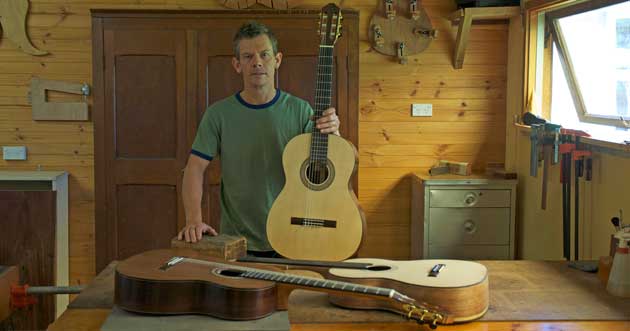 There is no hurry to making a beautiful instrument.
I produce guitars, using rosewood timbers for the backs and sides, and premium-grade spruce and western red cedar for the soundboards. I mainly build guitars in the contemporary Australian style while drawing on traditional elements.
Rob McMullan of Sydney Classical Guitars said in March 2013 of my then new guitar, "For those that like some aspects of lattice instruments, string separation, clarity, balance, etc, but desire more traditional tone colour, this guitar has all of the above in spades! Five stars."
Spanish cedar and old growth mahogany are mostly used for the neck, though other timbers are also sourced. Necks are reinforced with double action truss rods. Fingerboards are ebony. Bridges are made of different timbers depending on resonance of the finished soundboard. The guitars are finished with with nitro-cellulose lacquer.
It's a difficult thing to speak about the guitars you make, expanding on their qualities and strengths when you know there are so many fine makers out there. But as a guitarist, I know that all the words spoken or written have little meaning when one sits down with a guitar they have not previously played. The experience is a personal one and well beyond words. This knowledge makes it easier for me to speak about my guitars. I'm free to express what I feel, knowing that the response to each instrument will be what it is.
Most guitarists will never play in a concert hall. Some will play in smaller venues or at private or public gatherings; many will record or play with others and all will play for themselves in the wonderful private realm known by classical guitarists and musicians generally.
Like most guitar makers, I aspire to hearing my guitars played in the concert hall. While never relinquishing that aspiration, I keep in mind the majority of guitarists. These players need a guitar with beautiful tone and depth, one that is comfortable to play, and with projection that complements and enhances.
View some of the guitars